Editorials

Allen Williams on Thu 1 Mar 2018 CST | Cosmos
Revelations on the NWO Agenda..


In the last 200 years an organization of financial elites has formed an expanded alliance under umbrella organizations such as Bilderburg, Club of Rome, the Illuminati," etc. "The Rothchilds are from Germany and were Originally named the Bauers – the owners of Deutsche Bank in Frankfurt Germany. Deutsche Bank has been the Bank of the Holy Roman Empire for over 1,000 years.


"The Russian Federation is owned by the Rothchilds and Medvedev is the CEO – the address for the Russian Federation is in London.


"The CIA is owned by the English Royalty – whose holdings are managed by the Rothchilds. The EU is a Corporation owned by the US Corporation, which has a Headquarters in London and is owned by the Rothchilds"


However the term for this secret conglomerate most familiar in our time is the Deep State. But it's simply another synonym for autocratic control under the secretive Committee of 300 and its subservient organizations.


The Committee utilizes its secret societies to the fullest. The CIA in conjunction with its British GCHQ counterpart protects the deep state with disinformation and operations intended to discredit critics. They coined the term 'conspiracy theorist' for that purpose. The FBI has been transformed into a national political weapon designed to terrorize and intimidate the American population....

MO RE
Former National Security Adviser Susan Rice was supposed to testify Tuesday in front of the House intelligence committee but has postponed, according to reports confirmed by Breitbart News.

A watchdog organization is weighing its legal options after being denied access to material regarding "unmasking" by Barack Obama's national security advisor, Susan Rice. What's the justification for sealing Rice's records other than to obstruct justice and protect Obama's legacy?


"Everyone here is talking about why John Podesta refused to give the DNC server to the FBI and the CIA. Disgraceful!"


Wasserman Schultz resigned as DNC chief in July 2016 after the committee's IT system was hacked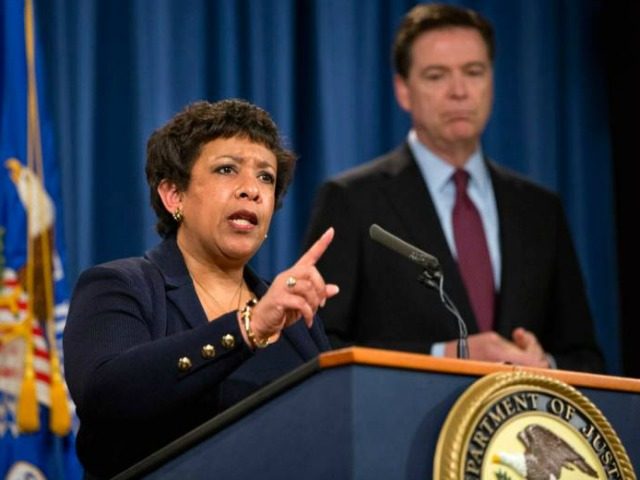 New Texts Show Lisa Page Believed Loretta Lynch Knew Hillary Clinton Would Face No Charges

Senate probes improper communication between former AG and Debbie Wasserman Schultz


AG Lynch reportedly directed Comey to mislead the public