Editorials

Allen Williams on Mon 03 Apr 2017 CST | Cosmos
The Value of Cabinet Appointments in a Globalist World
Appointments to federal agencies serve a duplicate purpose, first to administer the tasks of the particular agency and more importantly to provide a lucrative payoff for services rendered to the winning candidate. To wit: "For years, CEI has called for numerous ways to increase federal savings by getting rid of programs that cost more than they deliver to the American people, such as: Green Climate Fund, The Economic Development Administration, OPIC" not to mention the departments of Consumer Affairs, Energy and Education.

US government cabinet appointments by the winner exist to provide cover for illicit and often illegal practices of globalist organizations. A prime example is The Wikileaks revelation that the Clinton Foundation with its 'pay for play' policy is involved in child trafficking. "The following site confirms that the trafficking of human beings that is being done in Haiti is not new. It is a multi-billion dollar operation that has been going on for a long time, of which the Clintons appear to being taking advantage." Trafficking in Human Beings (INTERPOL – International Police Organization). And then there is Clinton Criminal Enterprise on Weiner's Computer.
Political appointments to lucrative or prestigious government cabinet positions have been a longtime American practice that has increasingly fostered abuse under control of the corporations and financial powers known as the Committee of 300. The Obama administration has clearly led the way in these kinds of abuses. Additionally, cabinet posts may serve as a command center for managing a global effort to form a one-world government. The globalist push under Secretary Clinton to replace Syria's Assad and
Hillary's uranium deal with the Russians
is an example of how to take advantage of a position.
READ Mo re
Unmasking' of Trump aides reveals Susan Rice at center of multifarious controversies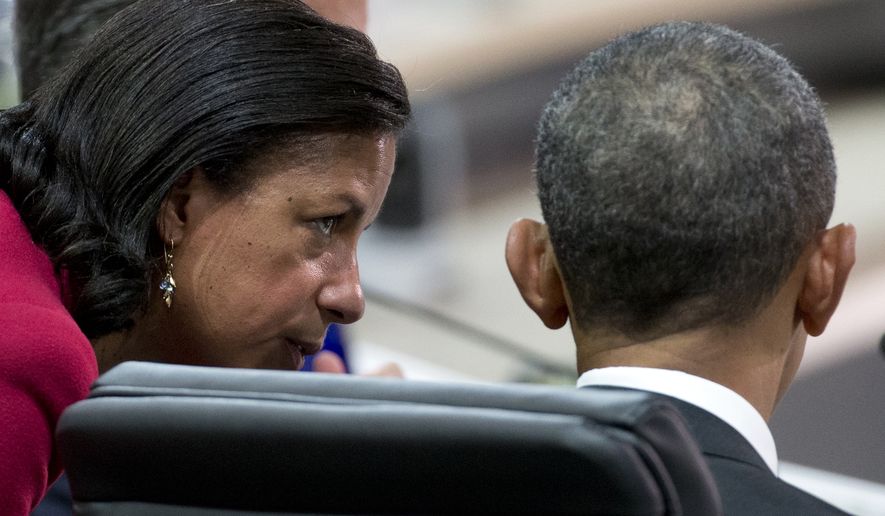 Inside the classical limestone State Department headquarters, America's diplomats learn statecraft, etiquette and strategy — and generally are discouraged from use of the middle finger as a negotiating tool.

Roughly two decades ago, Susan E. Rice, the youngest assistant secretary of state in history, used hers in a meeting with veteran U.S. diplomat and architect of the 1995 Bosnia peace accords Richard C. Holbrooke. According to various accounts, the dispute was a classic territorial battle between two volatile personalities.

The overachieving Ms. Rice regarded Mr. Holbrooke as a meddling elder. Mr. Holbrooke, then the U.S. ambassador to the United Nations, reportedly didn't flinch at the gesture and dismissed Ms. Rice as an upstart who lacked respect for her colleagues and the institution she served.

As history would have it, Ms. Rice went on to play a Zelig-like role in every Obama administration foreign policy controversy, including Benghazi, the Iran nuclear arms deal, the Bowe Bergdahl-Taliban prisoner trade and the deal to disarm Syria's chemical weapons arsenal. Now, once again, Ms. Rice finds herself front and center in America's latest international crisis: allegations that Russia meddled in the presidential election campaign last year and the Obama White House leaked what it knew about the Trump campaign's ties to the Kremlin.. MORE