Oregon Pays $7 Million After Preschoolers Starved by Foster Parents
MEDICAL KIDNAP Health Editor Comments: This tragic story from Oregon reminds us once again of the research conducted by Joseph Doyle of MIT in 2007 and 2008 that showed children who are taken out of "troubled homes" and put into foster care do far worse in foster care than those who are left in these "troubled" homes. See:
Foster Care Children are Worse Off than Children in Troubled Homes – The Child Trafficking Business

We agree with the late Georgia Senator, Nancy Schaefer, who exposed the corruption in Child Protective Services and Foster Care before she died, and claimed the system was too corrupt to fix, and needed to be abolished.
Excerpts: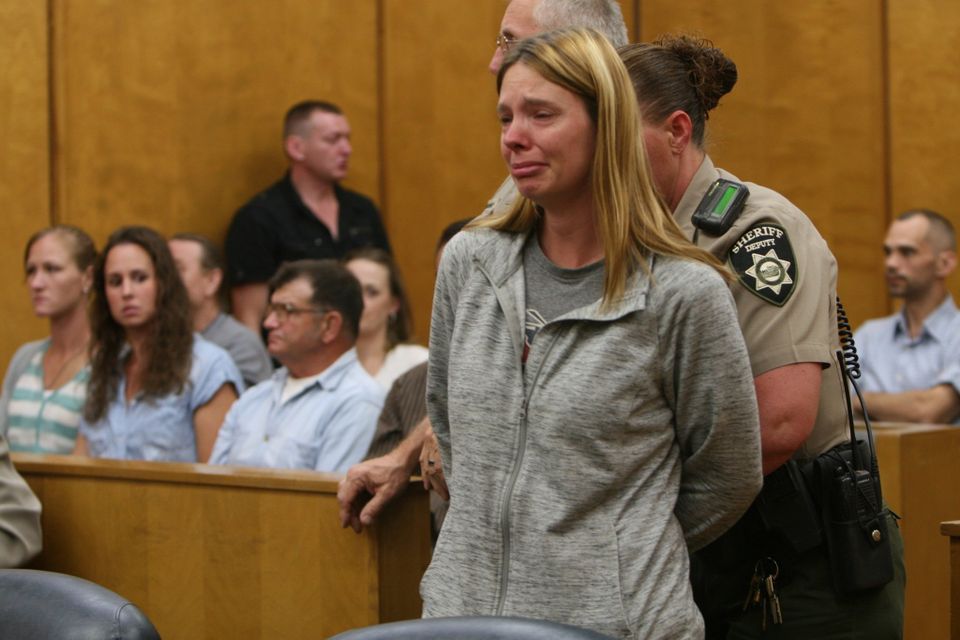 Danielle Yates, who pleaded guilty to felony mistreatment for starving two preschoolers in her care, is handcuffed before being taken away to begin a 2 1/2 year prison sentence. Behind her are relatives and allies of the foster children she gravely harmed. Photo from Oregon Live.
Oregon's child welfare agency has agreed to pay $7 million to settle a lawsuit filed on behalf of two children who were nearly starved to death by foster parents the state approved for them.

The settlement is among Oregon's largest for wrongdoing by a state agency but short of the record, a $15 million settlement by the Department of Human Services in 2015. That lawsuit was filed on behalf of nine infants and toddlers abused by a Salem foster father.

The Yamhill County foster parents who for years withheld food from the two preschoolers and subjected them to other abuse, John and Danielle Yates, are each serving 2 ½ years in prison.

The children were 4 and 5 when they were found to weigh the same as they had when they were 1 and 2 — just 27 and 30 pounds. The sister and brother were placed in the Yateses' home in May 2012, and medical records show their weights and heights began to drop as a percentile of what was normal for their age that same year. They were starved so severely by their foster parents that by 2014 their weights weren't listed on growth charts for children their age.

They still have an active lawsuit that alleges negligence by a pediatrician and his medical center and a network of federally funded health centers. The children were seen at the health centers by nutritionists with the Women, Infants and Children program more than a dozen times during the period when they were starved and abused.

The foster parents agreed to pay $100,000 – the proceeds from selling their home, according to court records. John Yates and Danielle Yates also each had to pay the children a fine of $4,250.

According to the lawsuit, caseworkers and their supervisors ignored complaints and obvious problems during the 2 1/2 years the children lived with the couple. A state review of the case found that a caseworker saw the emaciated children less than a month before doctors at Randall Children's Hospital determined they suffered from chronic starvation. But the caseworker did nothing. At Randall, the lawsuit says, doctors found the children resembled victims of a famine: their ribs visible, their bellies protruding and their brain development severely affected.

Read the full article at Oregon Live.